home
-
Home
Early reviews of the new album are starting to come in for shiny silvery things. You can read them all here
"Rich vein of indie inspired melodicism which always makes his work so richly rewarding. Selecting highlights would be a pointless exercise because every track really is a subtly crafted gem" - Kevin Bryan - Messenger Newspaper
"Shiny Silvery Things is a masterpiece that has been grown and nurtured to produce something that is unique and soulful. It is a warm and versatile album that can adapt itself to any mood" - Artree
**** "There are echoes of terrific songwriters here – the likes of Lloyd Cole, Paul Simon, Eels' Mark E Everett, and Prefab Sprout's Paddy McAloon filter through – but O Caoimh's personalized worldview makes the material his own" - The Irish Times
"twelve beautifully-crafted songs here that are set like jewels in arrangements and stylings that transform them into, well, 'Shiny Silvery Things'. Sublime" - Music Riot
"Gorgeous.. hit me right in the feels on the first listen" - Musician.ie
"Rich, rewarding exemplars of mature, observational songwriting, as though The Smiths had actually grown up and become responsible adults. Shiny Silvery Things positively rings with brightness and charm in a jewel encrusted trinket box full of delightful vignettes and new-found-sounds. There are so many standout tracks that it seems pointless to try to separate them in a spurious order of merit, so I won't try." - 1380 Radio Recommends
"hidden depths and lyrical touches that make the listener sit up and take notice...melancholy and joyous, at once catchy and thoughtful." -Americana UK
"richer in terms of production, and more wholesome whilst also retaining that bare and honest feel. bringing a comforting smile to the face of the listener, but at the same time, tempering that with a subtle moroseness" - Remy: The Best of Music and Film
"In time of constant change, certainties remain. Among them is the music of Cormac O Caoimh.. hook laden songs, superficial simplicity disguising thoughtful compositions, lyrically deep explorations and that all important personal touch that reflects O Caoimh's music… varied, finely painted and ever-widening illustrations" - Folkwords
"A Rich and rewarding brew. This fascinating singer -songwriter from Cork continues to enchant listeners with his new album." - Sphere Music
"in the tradition of the Go Betweens and Prefab Sprout..what we definitely recommend you do is to put it on repeat" - Gobsmag.nl
"4*** Heartwarming & beautiful" - CTRL.ALT.COUNTRY
"I mentioned already the voice, the voice and guitar of Cormac, but equally deserves all the backing band, with which I did not know one name, all praise" - ROOTS.BE
"..you immediately feel like Alice in Wonderland. Let's be enchanted!" - Music From THe Heart
"showcases Cormac's unique song writing and guitar playing..A collection of fine songs. An assortment of stories and scenarios, thoughtful and idiosyncratic lyrics shared against a background of catchy pop music delivered by some very gifted musicians" - Maximum Volume
"Nice mix of chamber-pop, jazz, folk, bossa and indie-pop. The exuberance of his songs is far from the melancholy of many country-folk authors; His style is much closer to the elegance of Paddy McAloon or Paul Simon's lyric polychrome that seem to come out of a dream where the Belle And Sebastian meet Prefab Sprout" - Ondarock
"it is clear that Cormac O'Caoimh takes great care in structuring his songs and music, the mood of the story must relate to the sound of the music, the mark left on the listener must be reflected in the vocal delivery. The contradiction arises from the fact that although we are presented with seemingly careful structure, the overall feel is one of effortlessness on the songwriter's behalf, turning the everyday into the special, where we see the mundane to the point of not even noticing anymore, O'Caoimh sees shiny silvery things everywhere and breathes colourful life into every single one of them" - REMY
"Cormac O Caoimh's songs are elusively difficult to categorize. Sometimes he is deceptively simplistic other times he's more wordy, introverted and introspective but with an uplifting message These are songs you can rummage around in and find something in the lyrics that speaks to you at your own point in time. Cormac's words find an expressive symmetry in his electric and classical guitar playing" - R2 Magazine
"in short, for the lover of better songs" - moors magazine
"deceptively good, direct-appealing, beautiful emotional songs" - Popmagazine Heaven
"elegant and complex attempts to get a grasp on intangible truths. with impressionistic and poetic lyrics" – whisperinandhollerin.com
"masters the style… The music has a slight sense of mystery and airiness within that transcends the soft approach into something deeper" – Folkworld.eu
"he instrumentation is beautiful…delightfully understated" -realrootscafe
"how have I never heard this before? His unique style of Indie/Irish folk is not only refreshing but about as relaxing as you can get. His music challenges us no less that the poetry of Coleridge or Wordsworth would" – Gigging NI
"Paul Heaton meets Paddy McAloon. The lyrics could be read aloud as works of spoken word" – Lonesomehighway
"This is a terrific new record, from one of Ireland's most innovative and individual songwriters" – Roy Thompson BAG
"Not quite sure why this wizard of an Irish songwriter doesn't get talked about more.If you like your Go Betweens/Prefab Sprout,this is for you" – Willie Meighan – RollerCoaster Records
"not exactly easy to describe, indeed often curiously elusive, this despite the quirky style of his writing that seems to speak personally to you, involving and engaging your emotions on the spot. There's also something of a early-80s indie/new-wave feel about Cormac's inspiration (The Cure? Smiths? or maybe I'm being fanciful?) " - FATEA
SEPT 2017
"TRACK OF THE DAY. Fresh from the release of his fourth album Shiny Silvery Things back in May, Cormac has shared the beautiful second single from that album. 'Silence and Sound' showcases the musician's exquisite lyrical and instrumental arrangements, with intelligent use of strings and backing vocals" – Hot Press
Loads happened between March and Sept and all of them were great. Album released (charted in official IRMA charts, and topped bandcamp charts) launched at a sold out show in Triskel Christchurch, first single Second Hand Clothes reached over 2 million listeners on radio, lovely single and album reviews and mighty listening gigs. And new single (Silence and Sound) is out Sept 15th and doing very well. (playlisted on rte, played on over 15 stations in Ireland and even more in UK and Europe.
You can read the Silence and Sound Single Reviews here
Some gigs to announce for Oct. See you when this section is updated again in a couple of months (or more). Thanks
March 2017
The new single is out now. You can listen and buy it and share it and all that stuff here:
https://cormaco.bandcamp.com/album/second-hand-clothes-single
Feb 2017
You can (right now!) buy presale digital copies of the new album (shiny silvery things) and ADVANCE copies (posted within 2 days of purchase) of the physical cd (digipak and booklet). There is also a special bonus (for Irish buyers) of entry into one of 3 gigs (Tiskel Christchurch Cork May 13, DC MUSIC club, Dublin May 19 and Ballymore Eustace May 8) . Those gigs include a free cd with each ticket. So for a limited time I will be doing the reverse and giving free entry (or ticket) with each physical cd sold. If you buy the cd I will contact you about that. If you want 2 or more tickets to any of those gigs contact me before you purchase the album and we will sort out some arrangement. All sales of albums are going through bandcamp below. https://cormaco.bandcamp.com/album/shiny-silvery-things
Note: if you follow the pre-order link on the bandcamp thing under this, a pop up window for the digital window purchase will appear . Click view all purchase options and it will disappear and you can click the pre order for the physical cd.
Jan 2017:
New album - Shiny Silvery Things will be out April 28th 2017. News to follow on a single (out before then) and a tour and launch and pre-sales etc.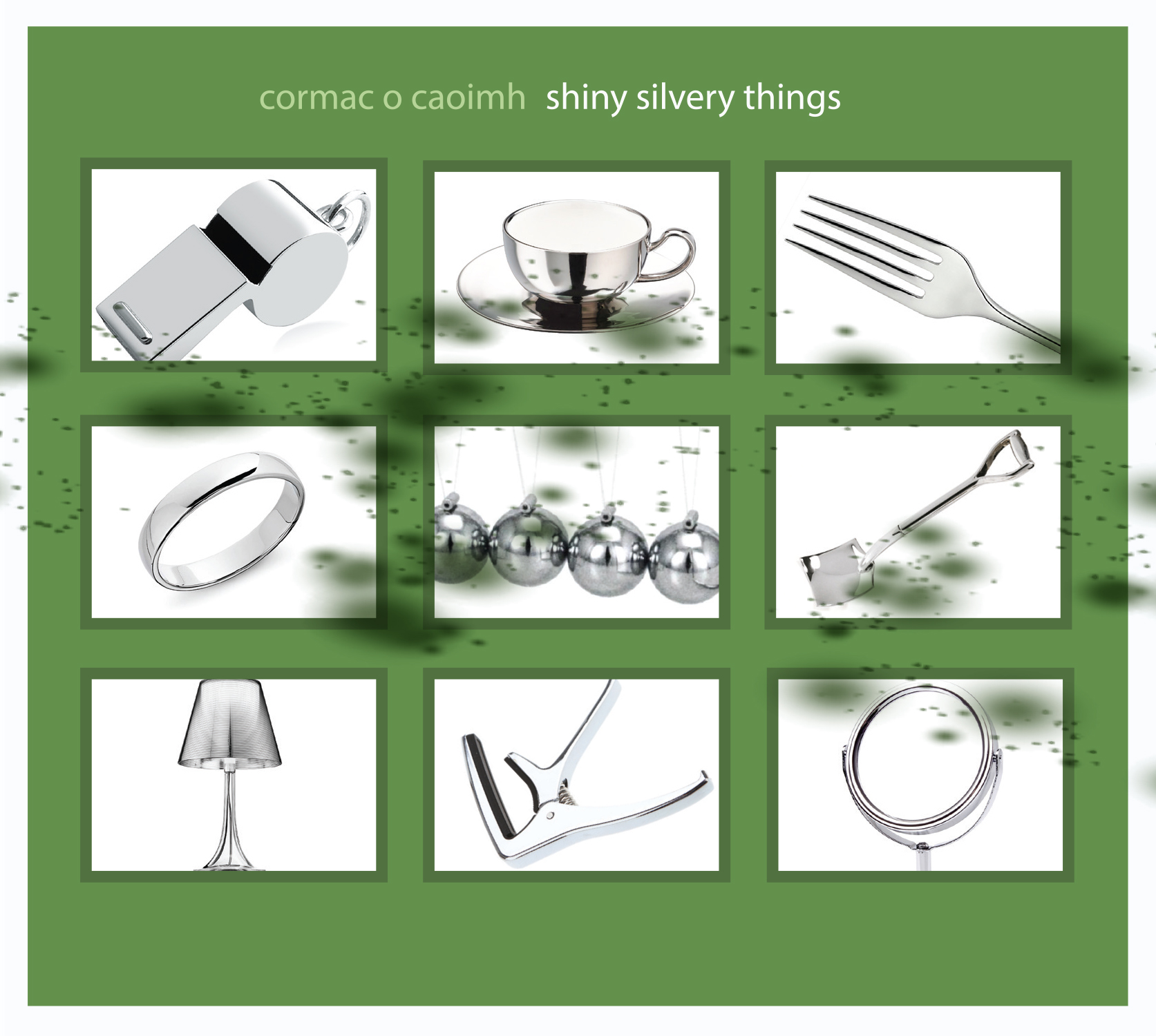 4 STAR REVIEW in the Feb Issue 2015 of Mojo Magazine
New single - Man of Sand - out March 13th
TV PERFORMANCE - on the ROISIN SHOW ON TG4
Cormac O Caoimh has just released his third solo cd "The Moon Loses Its Memory". It has already been featured and received excellent reviews in The Sunday Times, The Daily Star, Hot Press, The Ticket and many many more. He has done live sessions and interviews on RTE Radio 1, NEwstalk, KCLR to name but a few and 12 of the 14 songs of the cd have already received airplay on national and local stations. A full gig of his - live from HMV (who are also stocking the cd in their stores) went out live on the RTE website. And on the success of this new cd  he has received endorsement deals with Godin Guitars, Schertler acoustic amps and Logjam stompers.
New video up ..the title track of the new cd (The moon loses its memory). Shot loading in and setting up at the beautiful Cultúrlann Sweeney theatre in Kilkee.
Purchase a copy of The Moon Loses its Memory here
Reviews are coming in..snippets below ...you can read them all on the special moon loses its memory page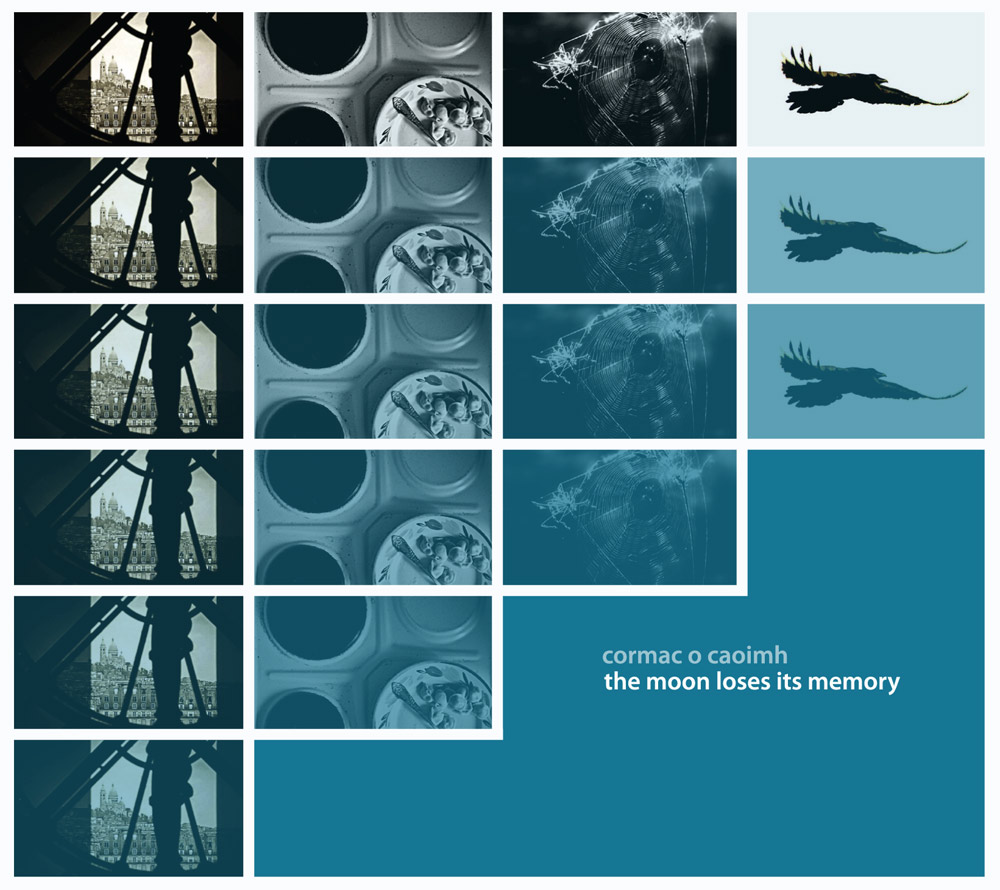 "Acoustic Gems from the Cork singer-songwriter. Each song superglues to the memory " **** Mojo Magazine
"This is one album you should not ignore" - Folkwords
"O Caoimh has achieved something here that most songwriters aspire to" - Instrumentali
"will accompany me on my travels in the future, given it's uplifitng and strong pop-folk vibe" - Remy's Music & Film Guide
"An effortlessly charming album" - Songwriter Magazine
"a tour de force" - Americana UK
"a refreshingly broad album.. an amalgamation of art and music.. the result is intriguingly beautiful..I'm definitely a fan."- Inserttitle.ie
"Leeside singer/songwriter Cormac O Caoimh explores darker subject matter on his third album and flirts with indie pop, folk and jazz among other genres" - The Daily Star
"Cormac's songs are like little sculptures... considered, shaped and honed into things of beauty that find their way to your soul."
- Fiachna Ó Braonáin (Hothouse Flowers)
"if there's any justice in this mad musical world, those who have not heard of this man will be in the minority very soon" - Golden Plec
"it really got its claws into me...I can't stop playing it" - Musician.ie
"this album is a tour de force" - AmericanaUK
"Cormac O Caoimh's Cork-accented folk shines..with his gentle lilt showing the strength of these songs" - The Ticket/Irish Times
"a versatile masterpiece" - Celebrity Cafe
"rooted in the ethos of Elvis Costello and Paddy McAloon" - The Sunday Times
"this a brew that's stronger than you think, you take in its smooth taste and captivating aromas, before discovering there is more strength/caffeine beneath the surface than you were expecting and it's a bit edgier than you were lead to believe." - Fatea Magazine
"This weaving, concept album is simply amazing" - GiggingNI.com
"it exudes quality lyrics and exceptional musicality"- Ralph's Life
"wonderful collection of songs by this excellent independent singer/songwriter" - Geoffrey Bennett/Musicians Together
""Cormac O' Caoimh's songwriting is akin to that of the '80s school of wordsmiths such as Lloyd Cole, Paddy McAloon and even Elvis Costello....a songwriter to be reckoned with" - Hot Press
"placing himself at an interesting arms-length remove from the (singer-songwriter) genre..an impressive album of folk-pop songs" - we are noise
"a real tour de force...a warm folksy masterpiece..an excellent piece of work..9/10 stars" - whisperinandhollerin
"excellent songs, fine guitar work and tasteful arrangements" - Martin Bridgeman KCLR
"Subtle, thoughtful lyrics, and that smooth, honeyed delivery, make his material a joy to the listening ear" - Roy Thompson, Ballymore Acoustic Gigs
"Beautiful new album. Highly Recommended" - The 4 Of Us
"Cormac's songs are simultaneously exciting and innovative, as well as warm and accessible" - The Bard Sessions
"What is conceived here is a mark of triumph" - U&I Magazine
" his warm, intimate vocals and intricate yet free-flowing guitar playing are the real joys here, ensuring O'Caoimh's star still shines bright" - Leonard's Lair
"an artist hitting his creative stride and one of the finest I've heard this year" - Niallofcork
"His warm and delicate guitar combines to make an enthralling and striking third solo album" - Fatea Magazine
You can read them all here on the special moon loses its memory page
The cd contains 14 tracks and features Cormac O Connor (on bass, drums, keyboard and telecaster), Colum Pettit (on violin), Aoife Regan (on vocals) and meself on vocals and a bunch of Godin guitars. The packaged cd is also a colloboration with the amazing photographer William Crowley. The digipak version of the cd contains a 16 page booklet featuring 14 of his photogrpahs that he chose specifically to suit the song. It is a beautiful colloboration of art and music.
The cd will be released sometime in June or July but before that I am making 100 copies (a combined total that will include physical copies or downloads) available. A pre-release special for the first 100 that want. You can purchase now...and you will be sent either the physcial copy (or the download code whichever you choose) within 48 hours. You wont have to wait!!
For A New Season for Love I used fundit to finance the cd production and promotion. And I was very grateful for all the support. This time I didn't want people to wait for it and wanted to offer it to people as soon as it was available....so I decided to plough ahead and offer (100) people advance copies. You can purchase your advance copy (download or physical digipak) here:
Purchase an advanced copy of The Moon Loses its Memory
Welcome to the new site. Here you can watch some videos, listen to some tunes, purchase cds, look at some pics, keep up to date with news and connect with me on various sites.
There is a new page on the site which will have all info related to the new cd . It is under the info section and called "Moon's Memory"
And you can read all the lovely reviews about the last cd in the "New Season" section
August 2013 update
I am delighted to be an offical endorsee of Godin guitars and delighted with the release of the last single from A New season for love last month and all the nice things that were said about it and the plays it got..and had an amazing experience being part of 3 shows at the Opera House as part of 100% Cork.
April 2013 update
Well...I have a new series of Black and white videos. They are featured above. I had some wonderful gigs in Bradleys and Coughlans. And I will be playing Indie Week Ireland in April as well.
A NEW SEASON FOR LOVE
You can listen to the a new season for love cd here and you can read all the lovely reviews on the A New Season for love page
2012
2012 was been a great year. Highlights of the 2012 include the release of "A New Season for love", receiving a multitude of super lovely reviews (which can be viewed here... the "A New Season for Love" page) ; Appearing on RTE's Arena show, the countless gigs..special mentions for the launch gig in the crane lane, the numerous fireside sessions appearances in the Bradleys, my gigs in both the City library and Douglas library, the various festivals including the Folk Festival, Winterfest, the Noise Weekender ;All the spins on various radiostations including RTE 1, BBC 6, BBC Ulster, 96 fm, BCR, SPIN, Dublin FM ;The interviews both radio and print especially the Las Angelas Beat and RTE ; Releasing 3 singles and having the third one "Remember When we didnt kiss" reach number one in the itunes charts for Ireland. The support of all the youtube subscribers, facebook likers and twitter followers. And countless other magicy music things.
"Beautiful beyond words" - Mutant Space
"Feels as if you're wrapped up in your warmest coat glimpsing some vast and beautiful landscape through the condensation laden windows" - Tom Robinson (BBC) 's Fresh on the net site
"Leaves you feeling that all can be right with the world" - Fatea Magazine
"There is true magic here" - Folk Words
"like a rich mahogany, warm and beautiful..layered and lush...a comforting feeling" - Secret Agent Mel"
"Intimate vocals, poetic and evocative lyrics and exquisitely crafted melodies-all beautifully framed within his flawless acoustic guitar work" - The Las Angelas Beat
"Songs which speak to the subconscious and have a comfortable place in the psyche" - Drop-d
"I challenge you not to be charmed...A new season for love is an accomplished album which wears its sombre mood lightly, with pleasing pop colours." - We are noise
"A perfect album. Sublime songs. Beautiful moments" Acoustic Review
"Counting the Raindrops', the 10th song is, in my opinion, the best song on the album and indeed one of the best songs to come out of Ireland over the last 10 years. This is to me the perfect song and ranks along the best of them even alongside Galileo and some of Cohen's evergreens." - Musicians Together
"His voice is a wonderfully expressive instrument..the result is a cohesive and excellent album" - Leonard's Lair
"The album is a treasure trove of song. A class act. A class record" -MRU
"mature and intelligent and the albums natural feel gives it a worthy intimacy" - Hot Press
"a sweet melody of delicately written songs that soothe the soul" - Celebrity Cafe
"Perfection lies within its quietude" - Scully Love Promo
"His voice is so soft and tender. His music is really going to calm you down. Highly recommended" - Entertainment Divaz
"a lulling voice in the realm of Nick Drake, with lyrics that whisper of love and lost things and friendship, quiet poetry, weaving through a gentle Jazz vibe. .. an album full of delights, perfect for those mellower moments of dreaming." - Dungarvan Observer
"perfect as a soundtrack to a lazy Summer day. Impressive stuff!" - To U I Bestow
"The craft at work here is of a rare quality" - File Under Good Music
"I think you will be impressed" - Cork Independent
"O'Caoimh's voice is flawless delivering songs of undoubted maturity" - Claire Kane
"seeps into your heart rendering you speechless with emotions" - Celtic Music Fan
"A haven for acoustic folk goodness. Lyrically sophisticated. Perfect chillout music" - Show me something different